When your child cries, you comfort her and wipe her tears away.
When your child screams in terror, you pull her close and make her feel safe.
When your child succeeds you feel proud.
When your child fails you offer support.
When your child speaks up for herself, you applaud her bravery.
When your child can't find her voice, you guide her.
When your child is giving, you receive it well.
When your child is selfish, you model good character for her.
When your child is lonely, you show her how to connect.
When your child grows up, you hope she'll nurture her child the same way.
This is your gift to her.
And along the way you may discover this is the same gift you can give to your inner child.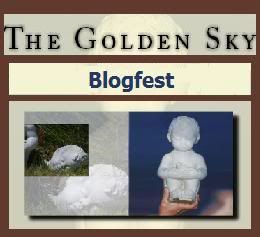 Today I am participating in "The Golden Sky" Blog Fest. Elisa from
The Crazy Life of a Writing Mom
will be publishing her book, "The Golden Sky" tomorrow, November 18th. I am so excited about getting this book. If you've read Elisa's blog then you know what a genuine, caring, beautiful, unique person she is. I imagine her book will be just as compelling as the stories she shares on a day to day basis with us all. Sharing her journey of losing her precious baby Zeke was not easy, but true to form, she did it in hopes that others who have suffered similar losses would find healing in her words.
Elisa, congratulations! This is your time to shine!
To participate in the blog fest she requested we write a story as a tribute to someone we've lost. I must admit, I'm having a hard time with this post. I have been fortunate enough in my life not to have unexpectedly lost a loved one. I had time to let these people know I cherished them, I had time for goodbyes (a rare gift). The losses were sad, but not tragic. Most of my losses were of my grandparents and I still carry the memories of the times I had with them…they're a part of me. I came from them.
Over the past few years I've reconnected with my "inner child". Much of her life was spent feeling lost, and that was no way to live. I grieved her loss. I had to learn to love her with the same love that I give my own child. Along the way I think I may have just become a better person for it.